(Newswire.net -- June 7, 2013) Torrance, CA -- Without further a due, here is your list of this year's great Father's Day ideas from HansonEllis.com:
1. A Man Cave – Every guy dreams about having his own space where he can unwind, watch the game and kick back with his buddies. Take that spare bedroom or extra space in the garage and deck it out guy style with signs, game tables and a mini fridge! Make sure to put in a big screen television and a kicking sound system for that man who might just be a little hearing and visually challenged!
2. A Pedicure – Believe it or not, lots of guys enjoy getting a pedicure, especially men who are on their feet all day. Treat your dad to a soothing leg and foot massage this year. Heck, throw in a full color polish if that's what floats his boat! It's his Father's Day gift!
3. A Gift Certificate to His Favorite Restaurant – Food is the way to a man's heart. Enough said.
4. A Date with Dad – This is a great gift from young kids. Let them treat their dad to a night out or a movie and popcorn. Some of the best memories are made with this type of father's day gift idea.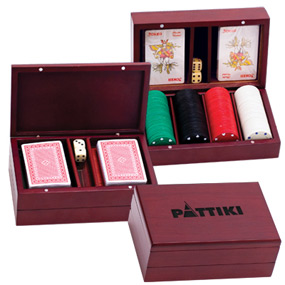 5. Poker Set – Give that gambling dad a chance to win back some of the money you have taken from him over the years with a Poker Cards and Chips Game Set.
6. Team Gear – Dads love their teams! Whether it is their college alma mater, their favorite professional team, or the local high school team, let dad show his support in a custom hat or t-shirt.
7. A Car Wash – Dads don't usually have extra time to keep their cars in tip-top shape. A full car detailing is a great father's day gift idea, especially if you've been borrowing his ride!
8. Something Shiny – If it plugs in, makes noise, and comes from the electronics store, you can't go wrong. Think tablet, laptop or television.
9. Trophy – Your dad's the best dad in the world so why not give him a wooden "Number 1" Trophy that has a chrome plaque perfect for personalization.
10. You! – Give your dad a picture of you. If you live far away, send him a digital frame loaded with pictures of you and him together. If you're close by, have a frame personalized with a sentimental message. Either way, a picture of you is one of the best father's day gifts you can ever give.
HansonEllis.com
21143 Hawthorne Blvd. #304 Torrance, CA 90505
1-800-793-3924